「acure」

Introducing our ekinaka vending machines
Our vending machines are at the places you know, bringing joy every time they are​ ​
used. Becoming a part of your everyday life, they also become an indispensable part​ ​
of your day. They provide you with a smile every time you use them while giving you​ ​
the things you want most. They are vending machines for everyone to enjoy.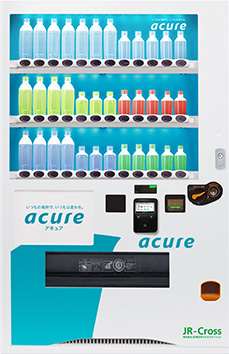 acure is a brand that provides ekinaka vending machines for any kind of customer. With a variety of beverages from different makers at one location, our vending machines provide variety through originality.
acure also offers a variety of vending machines beyond our original design in the form of Plusacure, naturacure, Next Generation machines and Suica vending machines. No matter who you are, there is a vending machine that suits your needs.
acure now has over 8,000 ekinaka vending machines throughout the East Japan Railway area.
acure vending machine lineup